Convoy Recognized in Fortune's Impact 20 List
Awards & Recognition, Convoy News, Sustainability • Published on September 29, 2020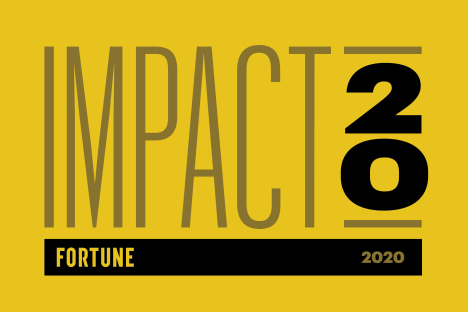 We are thrilled to be recognized on Fortune's first Impact 20 list. This list focuses on companies that are showing measurable progress in addressing social issues as part of the company's core strategy.
For nearly every industry, waste contributes to higher costs. But in the freight industry, the stakes are even higher. In freight, waste means that more fuel is consumed, more carbon is emitted, and truck drivers spend more hours sitting idle. We are facing a massive problem of inefficiency – and our environment is paying the price.
Reducing this waste is at the core of Convoy's founding mission of "transporting the world with endless capacity and zero waste".
Solving decades-old problems of inefficiency in freight requires a new approach, one that starts with technology at its core.
In a $800B market, it turns out that if you can drive 45% more efficiently, everyone can win. Shippers gain supply chain efficiencies while reducing their carbon footprint, carriers find more work and earn more money, and Convoy leverages technology and data to build a more robust digital freight network.
Convoy is empowering shippers and carriers by systematically eliminating waste, inefficiency, and short term thinking in the planning and moving of freight.
The net result is that Convoy does more to keep trucks full at lower prices, efficiently moving the freight for businesses on the preferred routes for truck drivers. Everyone sees an increase in overall earnings, transparent data-driven insights, and a reduction of waste for our planet.
We're now getting to the scale that we can actually make a dent in solving some of the major problems impacting our world.
We continue to push new innovations and initiatives that keep the environment front and center in trucking. We believe in holding ourselves and others accountable for making progress on core issues such as reducing carbon emission, reducing physical waste, and supporting supplier diversity.
Reducing carbon emissions: Convoy has partnered with customers to lower carbon emissions by almost 3,000,000 pounds.
Convoy's technology is already making progress in reducing carbon emissions by enhancing the ability to connect shipments more effectively. According to the EPA, medium and heavy-duty truck freight account for over 436 million metric tons of CO2 emissions per year. Today, 76 million metric tons of CO2 equivalent emissions are the result of empty miles. Convoy's Automated Reload reduces empty miles from the industry standard of 35% to 19% by bundling shipments into a single job for a driver. If the industry as a whole is able to achieve the same efficiency improvements that Convoy has seen on our bundled shipments, it would reduce CO2 emissions by 34 million metric tons. Additional capabilities such as Green Appointment Windows further reduce carbon emissions by 35%.
Reducing physical waste: Convoy reroutes consumable food to food banks instead of disposing it in landfills.
The U.S. wastes edible food at an alarming rate. Each year, about 72 billion pounds of otherwise consumable food never make it onto dinner tables, according to estimates from ReFED. Annually, that amounts to roughly 40 percent of all food in the US.
In a new collaboration with Feeding America®, the largest hunger-relief organization in the United States, Convoy delivers consumable food and beverages to food banks across the country instead of disposing of it in landfills. Convoy's Digital Freight Network uses Feeding America's MealConnect technology to enable truckers across the nation who find themselves facing rejected food and beverage shipments to immediately find the nearest food bank and reroute to deliver the surplus items.
Businesses work with Convoy to set their disposition criteria for rejected shipments. When individual shipments are rejected within the shipper criteria, Convoy routes the shipment through MealConnect to find the closest food bank. When the shipment arrives at the food bank, the trailer is unloaded by food bank staff and the driver is on their way to their next job. To close the loop, the shipper receives individual receipts to recognize their donation.
Supporting supplier diversity: Empowering diverse drivers to earn more.
This year Convoy launched a Supplier Diversity Program that gives diverse truck drivers access to more business to maximize their earnings. Our carrier program identifies opportunities for Convoy to recognize and promote historically underrepresented and underutilized groups among our network of carriers.
Supplier diversity is important to the transportation industry. Businesses are committed to supplier diversity by maintaining practices that promote and expand job opportunities for diverse suppliers. Over 90% of the Fortune 100 companies have supplier diversity initiatives. In 2017, each Fortune 100 company spent on average $2.9B on diverse suppliers within their supply chain. Aligned with our customers, we believe that promoting diverse businesses is pivotal for creating a more inclusive and dynamic industry. We are committed to creating a carrier network centered around purpose and to support our sustainability goal of reducing billions of waste in trucking while also improving the lives of America's 3 million truck drivers. This new program is another way we are partnering with customers to ship responsibly and help them achieve sustainable and profitable growth.
COVID 19 relief: Convoy has hauled over 1,503,908 pounds of donated products.
As we continue to face the challenges of COVID-19 together, Convoy remains committed to supporting truckers and businesses across the country, as well as their broader communities. In an effort to address the growing food shortages facing millions of Americans impacted by COVID-19, companies like Land O'Lakes Inc and Borden Dairy are partnering with Convoy to donate critical items to food banks across the nation. We offered to haul freight for any business able to donate a truckload of goods to their local Feeding America food bank. These donations quickly resulted in donated 204,380 meals.
Due to the demand, Convoy expanded this program to haul any type of donation. To date, Convoy has hauled over 1,503,908 pounds of donated products, partnering with organizations such as Dairy MAX, Jazwares, Salesforce, Borden Dairy, and Feeding America, DHL, Tempur Sealy, and Dart Container.
And we're just getting started!
Businesses are already gaining supply chain efficiencies while reducing their carbon footprint and truck drivers are finding more work and earning more money, but we have more we want to do. We want to continue to extend our automation to increasingly better match trucks to reduce the total cost for shippers. We want to do more to democratize access to freight for truck drivers to have them maximize their earnings. We want to add more real time planning capabilities into our network that automatically adjusts for changing conditions and unforeseen events to maximize efficiency and prevent waste. We want to provide transparent data in real-time enabling shippers to manage and improve supply chain logistics.
Our commitment to reducing the waste of trucking underpins everything we do at Convoy. We believe this is a mission worth chasing, and it will have a lasting impact on our economy and more importantly, our planet. Learn more about Convoy's sustainability efforts here https://convoy.com/sustainability/.